Butcher Block Countertops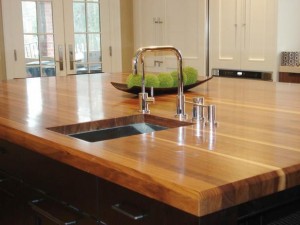 Butcher block countertops were invented due to the need to have a sanitary and safe place for cutting meat. Before the advance of 1881, butchers used to cut meat on tree rounds which were supported by wooden legs. These tree rounds would occasionally splint and crack making them a good breeding place for bacteria. This led to invention of butcher block countertop by Michigan maple Block Company. Today, butcher block counter tops have become a functional kitchen item which is also aesthetically appealing.
Sizes
The normal size of popular butcher block countertops is twenty five, thirty, or thirty six inches in term of depth. Most of them are with a thickness of one and a half inches. Counter-tops vary widely in length but the standard ones ranges between 12 to 144 inches. Note that you can approach a manufacture and request him or her to cut your counter-top to suit your particular need. However, standard models are more economical.
Finishes
One of the most popular and recent way to finish wooden butcher block countertops is to use Durakryl 102. This product is ideal since it is water repellant, non toxic and tolerant to common household chemicals. Note that mineral oil used to be the most popular finish for most wooden butcher block countertops in earlier days
Maintenance
If your butcher block countertop has a mineral oil finish, you should oil it at least once in a month to ensure they do not get dry. You should also sand any scratches and nicks on the surface of the counter top and then re-oil the counter top. Use warm water with mild soap to clean the countertop.
Butcher block countertops which have been finished using Durakryl 102 require minimal or no maintenance. Scrapes can easily be removed by gentle sanding and stains on the surface by watching with a breach solution. Note that we have a product known as good stuff which you may use to fill any unwanted mark on the surface of the butcher block countertops.
Now let us examine some of the benefits you will gain by using butcher block countertops.
Butcher block countertops are extremely versatile
You can get butcher block in a wide range of stains and colors. Natural variation in wood grains, depth and beauty further adds to their flexibility. You can be sure to obtain a butcher block counter-top of your choice. They also come in various sizes.
Sanitary concern
Butcher block countertops offer a sanitary material for counter-tops not withstanding what manufactures may try to convince you. The first use of butcher block countertops was in the 19th century when they slowly started replacing the unsanitary wooden block that were in use then.
Appearance
Butcher block countertops bring a classic, timeless appearance to your kitchen. Moreover, their natural wooden look brings a warm feeling to your kitchen.
Durability
Manufacturers mostly use hardwoods to make butcher block countertops which makes them durable. This in addition, enables them to be used as cutting surface hence eliminating the need to purchase cutting boards.
Easy to clean
A simple watch using soap, warm water and a sponge is enough to clean and disinfect butcher block countertops. You need no special watching supplies. The only requirement for you to observe is to ensure you clean the surface as soon as possible after use.